bob's brake muffler & auto repair
Auto Repair Shop and Vehicle Diagnostics in Warminster, Pennsylvania
State Inspections and Emissions
Every state in the US requires car owners to have annual or bi-annual inspections on their vehicles. There are two checks, one for the physical and mechanical side of the vehicle, the other for emissions. At Bob's Brake Muffler & Auto Repair we are certified inspectors and we take inspection classes every two years to be re-certified.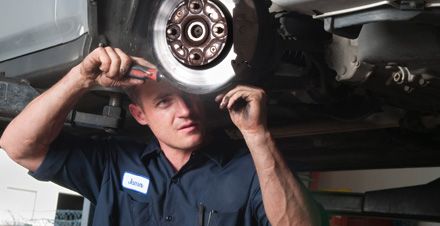 Brake 
Repairs
Normal wear and tear on a vehicle can cause damage to the brakes, and it is essential that if anything goes wrong with the braking system, it is fixed immediately. The biggest warning sign for motorists is a grinding or screeching when they depress the brake pedal. We can repair and replace brakes on all makes and models.

Muffler
 Shop
A muffler is a device that decreases the noise emitted by the exhaust of a vehicle's internal combustion engine. Nowadays, most mufflers are made of stainless steel and delaying any necessary repairs will mean an inevitable increase in noise, and may lead to exhaust leaks and a decrease in fuel efficiency.
About Us bob's brake muffler & auto body
Bob's Brake Muffler & Auto Repair has been in business for 16 years serving motorists in and around the city of Warminster, Pennsylvania. The people who run the firm have more than 36 years of experience behind them and the company remains family-owned and operated, and with an excellent reputation in the local community. Most of the work we do is related to vehicle brake repair, and we are certified to carry out inspections for physical, mechanical and emissions inspections.

Although we do not offer a roadside service, we will refer any calls to another operator. The business here is fully licensed, bonded, and insured and we pride ourselves on being a small outfit with an emphasis on honesty and integrity. As well as Warminster we attract customers from towns and cities within a wide radius, including Warrington Township, Warwick Township, Ivyland and Hatboro. We are open five days a week, Monday thru Friday, but you can arrange an appointment-only service with us on Saturdays.

15 Years Family Owned & Operated
Quick, Reliable & Affordable
Engine Diagnostic & Repair
Brake & Cooling Systems Service
PA State Safety & Vehicle Inspection
And More ...

Transmission and Radiator Repairs
The transmission is one of the most complex components in any vehicle's engine – and one of the most vital. It is operated by computer and is responsible for shifting the gears both automatically and manually. It also changes the speed-torque ratio to deliver power to the wheels. There are no easy fixes and if something goes wrong with the transmission system then you usually need to have it removed, then rebuilt or replaced. Here at Bob's Brake Muffler & Auto Repair we have the professionals who can do the job for you.

One of the most common problems with radiators on vehicles is that they develop a leak of the high pressure coolant in the tank. Radiators can also suffer from internal corrosion if the coolant is not changed regularly and turns acidic. Vibration can also cause the tanks and seams to crack and leak. There are a number of problems that can affect your radiator and if you need help with fixing them then come to us.